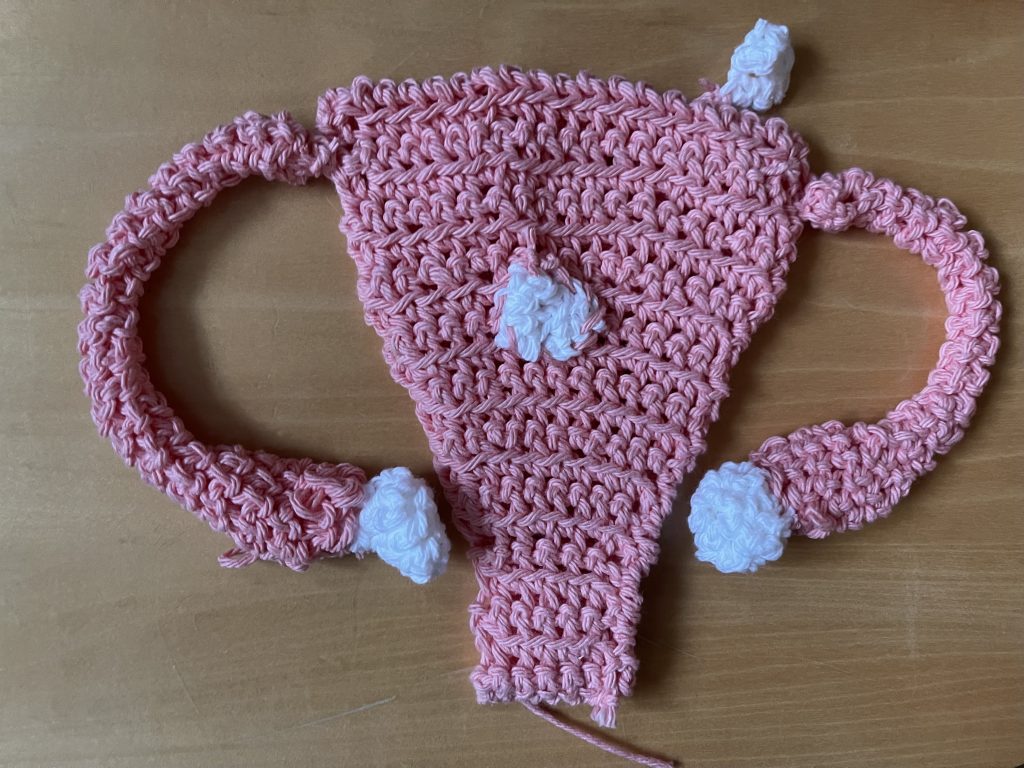 The objective that I decided to focus on is "compare and contrast the function and structural characteristics of tissues' ' and I am did this by crocheting a uterus with uterine fibroids. I will be comparing the different types of tissues typically found in the uterus as well as the tissues found in the fibroids which are a common occurrence in women of reproductive age.
The uterus has many important functions in the body, namely the production of a hormone named estrogen that facilitates and maintains menstruation, gestation, bone density, and cholesterol in the female body.
My STEAM project focuses on the different tissue types in the uterus as well as uterine fibroids. The layers of tissue in the uterus begin with the endometrium, myometrium, and perimetrium. The endometrium (inner layer of uterus) is a single layer of simple squamous epithelium tissue that rests on a layer of connective tissue named the stroma that varies in thickness according to the stage of the menstrual cycle that a female is in. The endometrium essentially functions to expand during menstruation. The myometrium is a layer of smooth muscle in the uterus that functions in the expansion and contraction of the uterus. The perimetrium (outer layer of the uterus) is composed of simple squamous epithelium and a layer of loose connective tissue. It functions in secreting a lubricant that prevents friction between the uterus and other tissues.
Uterine fibroids are noncancerous uterine growths that are made of smooth muscle cells and fibrous connective tissue. Fibroids, or myomas, will not develop into cancer and they do not indicate that the uterus will develop cancer in the future. They can be the size of a seed or they can be large enough to distort the shape of the uterus and make the person affected gain weight. Some fibroids can even reach the ribs because of how large they become. Typically, myomas will not have any symptoms, but if they do, symptoms can include long menstrual cycles, heavy bleeding during menstrual cycles, pain in the pelvic area, constipation, and difficulty urinating. According to the American Journal of Obstetrics and Gynecology, fibroids mostly occur in women of reproductive age, and after menopause, if a woman does grow fibroids, then they will be so small that they will barely be detected in an ultrasound.
There are many risk factors for uterine fibroids. Black women are at a higher risk for developing myomas, and so are women between the ages of 45-49. While fibroids are not inherently fatal, their symptoms can be. Abnormal bleeding as a result of myomas can lead to anemia, transfusion, and even surgery. Hysterectomies remain to be the most effective treatment for symptomatic myomas. 25% of cases of uterine fibroids are symptomatic and 30% of all hysterectomies are for the treatment of uterine fibroids. An alternative therapy called collagenese can help with removing the bulkiness of fibroids. They work by breaking down the collagen in the fibrous connective tissue in fibroids and it can cause fibroids to shrink. Which in turn leads to less bleeding and discomfort.
Myomas can be described by their location in the uterus. intramural fibroids grow within the inner layer of the uterus, submucosal fibroids grow in the uterine cavity, while subserosal fibroids grow outside the uterus. My crochet of a uterus shows a submucosal and subserosal fibroid.
Citations
Loss of stiffness in collagen-rich uterine fibroids after digestion with purified collagenase Clostridium histolyticum. DEFINE_ME. (n.d.). https://www.ajog.org/article/S0002-9378(16)30201-0/fulltext.
Mayo Foundation for Medical Education and Research. (2019, December 10). Uterine fibroids. Mayo Clinic. https://www.mayoclinic.org/diseases-conditions/uterine-fibroids/symptoms-causes/syc-20354288.
Systems Cell Biology@Yale. medcell.med.yale.edu. (n.d.). http://medcell.med.yale.edu/systems_cell_biology/female_reproductive_system_lab.php.
A US population-based study of uterine fibroid diagnosis incidence, trends, and prevalence: 2005 through 2014. DEFINE_ME. (n.d.). https://www.ajog.org/article/S0002-9378(18)30831-7/fulltext. What are fibroids? UCLA. (n.d.). https://www.uclahealth.org/fibroids/what-are-fibroids.