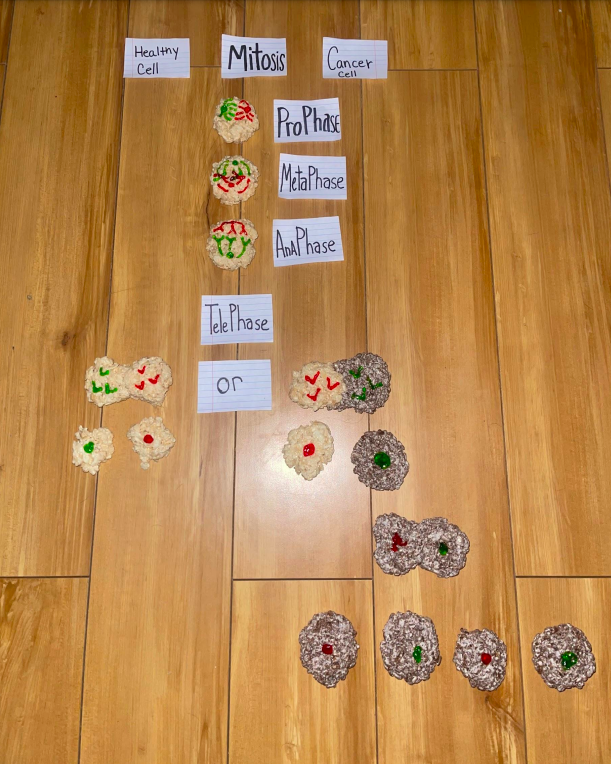 Threw out our unit and labs learning on cells and their functions we learned the stages of mitosis; prophase, metaphase, anaphase, and telophase this is known as the cell cycle. We know that in this cycle cells divide cells and make copies of themselves. Cells are supposed to do this at a pace where they do not not over crowd and die at a certain point, they are able to do this due to the DNA that codes what they do. Sometimes their DNA can change though which isn't normal and is what we call cancer cells. Cancer cells don't listen to what the body is telling them to do like regular cells do instead continue to divide and do not die giving the chance for more to create. Cancer cells can also influence behaviors on healthy cells and they use them as an oxygen supply to keep their mass bundle of cells alive. Tumors which are made of cancer cells, immune cells, and fibroblasts can continue to grow and irritate tissues around it which is how people are able to feel pain where their cancerous tumor is located.
Citations
American cancer society. (2014). What is Pancreatic Cancer? Retrieved from Cancer.org website: https://www.cancer.org/cancer/pancreatic-cancer/about/what-is-pancreatic-cancer.html
Lau, A. N., Li, Z., Danai, L. V., Westermark, A. M., Darnell, A. M., Ferreira, R., … Vander Heiden, M. G. (2020). Dissecting cell-type-specific metabolism in pancreatic ductal adenocarcinoma. ELife, 9, e56782. https://doi.org/10.7554/eLife.56782
TAN, B. (2021, June 8). Cancer cells vs normal cells. Retrieved from Cancer Treatment Centers of America website: https://www.cancercenter.com/cancer-cells-vs-normal-cellsLinks to an external site.
Mori, R., Matsuya, Y., Yoshii, Y., & Date, H. (2018). Estimation of the radiation-induced DNA double-strand breaks number by considering cell cycle and absorbed dose per cell nucleus. Journal of Radiation Research, 59(3), 253–260. https://doi.org/10.1093/jrr/rrx097