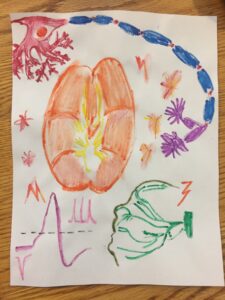 The head and neck's motor and sensory functions are a result of the twelve bilateral cranial nerves. The trigeminal nerve is the 5th cranial nerve and is the largest (Borges & Casselmann 2010, Rice University 2017). The trigeminal nerve receives input from our face, controls muscle responsible for chewing, and plays a significant role in migraines (Borges & Casselmann 2010, Durham 2004, Rice University 2017).   
Migraines are intense headaches that can last broken down into four phases and can last for days. The mechanism that causes migraines is a positive feedback loop that reduces the threshold of the firing of action potential from the trigeminal nociceptive (pain) neurons that send a pain signal to the brain (Giniatullin et al. 2008).
Borges, A., & Casselman, J. (2010). Imaging the trigeminal nerve. European journal of radiology, 74(2), 323-340.
Durham, P. L. (2006). Calcitonin gene‐related peptide (CGRP) and migraine. Headache: The Journal of Head and Face Pain, 46, S3-S8.
Giniatullin, R., Nistri, A., & Fabbretti, E. (2008). Molecular mechanisms of sensitization of pain-transducing P2X 3 receptors by the migraine mediators CGRP and NGF. Molecular neurobiology, 37(1), 83.
Rice University. (2017). Anatomy & physiology. OpenStax. https://openstax.org/details/books/anatomy-and-physiology